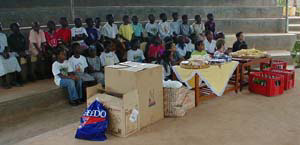 At Watoto Ministries we saw many kids. Peter and Hani took photos. We ate cakes, sweets and sodas.We served every body. They are like brothers and sisters. We played a game to know who would win Peter's car. It was a boy of 10 years like him.
It was the most beautiful day of my life.
Esmeralda
On Friday 15 we went to the Watoto Ministries. It was very fun. I was serving the candies with Hani. Watoto Ministries is a group of poor children who do not have parents. Some poeple served cakes, chips, and sodas.The children were very happy and I was too because I made them feel good. That also makes me feel good ! We gave them some old clothes,old shoes,old toys etc. At the end we had a little bit of every thing. It was fun. I would like to do it again !
Camilla
On Friday 15 we went to see poor children. They were very shy to say their names. When we brought the food they were excited. Then we gave them some cakes, sweets, chips, sodas and clothes.
It was also exciting for me because they were very happy.
That day was one of the best days of my life.
Farah
I saw a lot of children. There are 40 houses for children of all ages. I served sodas and I put in the straws. Matthias was opening them. Then we gave the surprises and we played a game. Hani took some photos of me and some children.
Jean-Marc